THE ART WORLD made it through the real-world crash relatively unscathed, but not unchanged. And even as money still courses thick and blue-chip through its veins, the system is beginning to reexamine itself. Last month during ­Armory Week, there was not just the big Establishment fair but a handful of smaller and less-Establishment fairs; a couple of anti-money, anti-Establishment fairs; and at least one anti-anti-Establishment fair, which was both a tribute to the Armory Show's origins and a flip of the bird to its corporate values, and might also just have been one big art-punk hotel party (we're still figuring that one out). And now, for the first time, London's Frieze fair is coming to town; when it arrives next week, it'll challenge incumbent kingpin Armory for supremacy in the city. Our art critic Jerry Saltz, for one, is excited by this, as he is by quite a bit of the new art he sees burbling out there, art that seems to be getting smaller rather than bigger, intimate rather than corporate, and intangible and performative rather than industrial and perfectly resolved—the stranger and more mercurial, the better.
Artist Interview with Kehinde Wiley Upcoming Newyork Artist
It's a moment of weird equipoise, as the Art Death Star and the Rebel Forces are battling to the quick. To mark it, we've decided to present our own version of performance art: a tongue-in-cheek rulebook for how to make it in the art world now—as artist, gallerist, collector, hanger-on. Many of the case studies demonstrate this period's impish contradictions ("Make Art That's Difficult to Collect," "Pretend You're an Outsider, Even When You're at the Center of Everything"). And many of them show how to walk a line that has become particularly well trod of late: Used to be, new galleries admired the powerhouses and young artists envied the established ones—until they deposed them. These days, the envy runs both ways. Everyone wants in, and the only way to get in is to act like you're out. Which means nobody wants to cop to having made it already, and everyone acts like they're overthrowing the system by thriving in it. Maybe they are.
Here are a few pointers and rules we've researched if you want to make it in the art world.
1. Reject the Market. Embrace the Market.
Eight young artists whose work the critic believes breathes new liveliness into a frustrating system, in a photograph by one of them, Ryan McNamara. Who are they? Click to view the slideshow.
---
Art is changing. Again. Here. Now. Opportunities to witness this are rare, so attend and observe.
For nearly ten years, starting in the late nineties, art and money had sex in public. Lots of it. And really publicly. Art became news. Prices were equated with artistic value. The highest sellers were seen as the best artists. Galleries got bigger, then became multinational, opening branches here and then in Europe and Asia. ­Wherever money went, art followed (it should be the other way around). Larry Gagosian now has eleven outposts; I await Gagosian Kuwait.
Like oil wells, once these operations are turned on they have to keep pumping product. Lots of it. Most of it crude. For ten years, large, shiny, highly produced, entertaining, ever-more-expensive objects were produced by the system, then snapped up by speculator collectors who rushed in where the rest of us feared to tread. It doesn't matter that most of them don't know what art really is and have never gleaned its hallucinatory powers. A lot of people struck it rich and laughed all the way to the bank.
This worldwide rising tide had the benefit of floating many boats. More artists than at any time in history were able to at least subsist within this system. And a lot of very good art got made. So it went. Until it didn't. In 2008, the bubble burst. Or seemed to. Everyone, including me, assumed that the art world would shrink. But that didn't happen. Instead, growth surged. It was as if John Travolta's Pulp Fiction character stabbed the art world in the heart with a giant adrenaline needle! More sales and speculators; higher ­prices; new galleries. And it's still happening. Even as the world is in recession, the art world has remained on a bender.
But something has been happening of late. Large numbers of disconnected and discontented artists, gallerists, and others have taken matters into their own hands, changing the directions of art, its structures, and maybe its internal values. Over the last decade, we saw megatons of art that was produced in factories, turned out by armies of assistants, and sometimes never touched by its makers. All you could think about was how much it cost. Collectors and museum curators eager to be included in the all-out global party shelled out enormous amounts of money for this sort of art. Often they bought it sight unseen. Everything was impersonal. Meanwhile, things small, unfinished, or chaotic were art non grata.
But now, all of a sudden, more art is coming from private places, looking almost outsiderlike, untaught, odd in ways that feel pressing, impatient, and important. In from the wilderness. A lot of it is smaller, made of less expensive or found materials, and more provisional, or at least bad in ways that aren't so annoying.
After too much art that made too much sense, artists are operating blind again. They're more interested in the possible than the probable, the private that speaks publicly rather than the public with no private side at all. Damien Hirst may be able to fill eleven galleries with spot paintings done by other people for other people. But this work doesn't have any of the inner power channeled by Joanna Malinowska, staging a concert of Beethoven's Moonlight Sonata played on toy pianos, then inviting over 100 viewers to howl like wolves for five minutes, mourning the fate of Native American prisoner Leonard Peltier.
Much of this art evades categorization and defies collectors. It exists in the in-between genres where performance, sculpture, video, sound, photography, and sometimes painting overlap. When it's not in an overlap, it jolts the old categories. I see artists bored by light-­without-heat, irked at gigantic galleries' pushing out art-as-product, leaving behind the over­determined for the undetermined, guided by interior voices and bringing us out of a long tunnel to new blueness. Our blood still boiling at the art-luxury freak show, insurgent energies have resolved to make it new and make it over. Or die trying.
And the pheromones in the streets have been wild. There have been evenings of over twenty openings in little spaces on the Lower East Side and in Bushwick, enormous numbers of people filling the streets, looking at one another as if to say, "Yeah. There's a way around the grossness and shell shock." Most important, it's not about neighborhoods or size. Energy and art go where they will. Peter Freeman just opened a huge, unrenovated ground-floor space on Grand Street that looks and even smells so much like an old Soho loft gallery it gave me old-school goose bumps.
Hundreds came, dozens of works were hung, and dancing in the streets ensued a few weeks ago at the opening of artist Hennessy Youngman's everybody-is-welcome-and-everything-gets-hung open-call show at Maurizio Cattelan and Massimiliano Gioni's new pint-size Chelsea non-gallery, Family Business. Cattelan recently hung his career's output from the ceiling at the Guggenheim for a retrospective, and the New Museum's Gioni is the curator of the next Venice Biennale; that two bigwig insiders are running this peewee nonprofit space in the middle of Chelsea shows people are still trying at all costs not to go along to get along and to play with the system instead.
2. Stay on Trend…
3. Make Art That's Difficult to Collect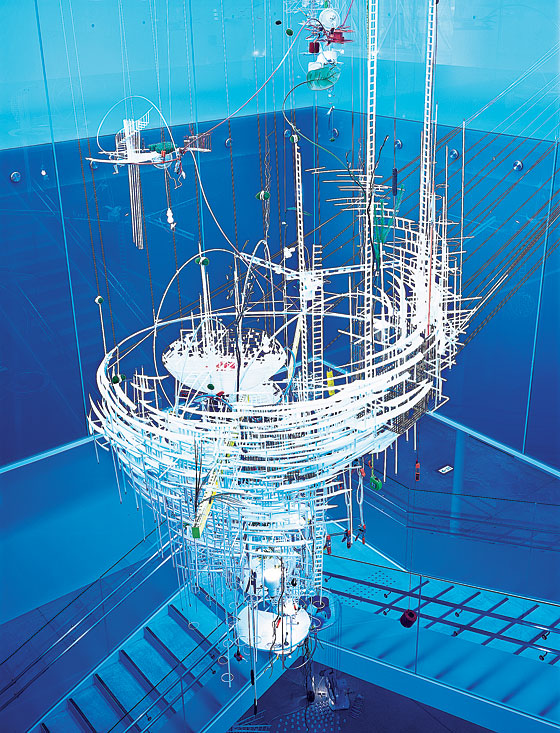 Sarah Sze's striking, delicate site-specific constructions aren't exactly the easiest things to collect, transport, or install. Often gallery-size and made from everyday bric-a-brac such as ladders, lamps, fans, Q-tips, string, toothpicks, paper, rocks, cots, cans, and plastic bottles, the neo-Escher-like structures seem like they might collapse if you so much as breathe on them wrong. With works like The Art of Losing (2004)—an epic cyclonic mobile of sorts owned by the 21st Century Museum of Contemporary Art in Kanazawa, Japan—impractical for most collectors to display and therefore own, her prices have never made headlines, her presence at auction is negligible, and the pieces themselves are typically seen in and acquired by museums.
But at 43, she's (somewhat suddenly) a star, thanks to the rigor and consistency of her vision, and institutional support for obsessive, pointedly ephemeral work that defies commodification in an art market always hungry to buy. Sze has works in the collections of the MoMA, the Guggenheim, and the Whitney, as well as a ­MacArthur "genius" grant (her husband, doctor and author Siddhartha Mukherjee, has a Pulitzer), and in February, she was invited to represent the U.S. at the 2013 Venice Biennale—an art-world designation on par with an ­Oscar.
4. Be Young, Post-Black, and From Chicago
Theaster Gates 
38, does urban planning as installation art, was the featured artist at this year's Armory Show, recently signed with London megagallery White Cube, and appeared on the cover of the January–February issue of ArtReview.
 Rashid Johnson
34, specializes in wall-mounted sculpture assembled from objects with personal meaning, made a splash by joining global art powerhouse Hauser & Wirth on the eve of its move to a new space in Chelsea, and is on the cover of this month's Modern Painters.
---
5. Survive
Art was a fugitive occupation when I went into it," says Alex Katz, who is toting his own massive canvases around his light-filled studio with the vigor of a much younger man. "I lived on crumbs in my twenties and thirties before it started moving."
At 84, the New York painter remains alarmingly prolific: A retrospective dedicated to his prints opens April 28 at the Museum of Fine Arts in Boston, and this summer, Tate's St. Ives outpost will host a survey of paintings, cutouts, and collage.
"A lot of people respect me," he says. "But people used to really hate my work. As late as 1975, I had a show in Paris and people were screaming in the gallery. They were saying this is terrible art and I should go back to art school." He shrugs. "It separated me from other artists."
Today, Katz acknowledges where he's appreciated (Europe) and where he is not (New York). "I think they are behind the times in New York. They are rapidly turning provincial on the museum level." Things were feeling pretty stale with his gallery, too, which is why he left Pace in 2010, then signed with the younger, hipper Gavin Brown. "I was tired of Pace," he says. "So I left. And about three-quarters of a year later, Gagosian and Gavin came in the same week. Gavin seemed to ­understand the paintings.
"Those are things that make journalism," he says of gallery gossip. "The dealer is the crook, the artist is a phony, and the money is outrageous." About that last, though, he agrees. "Weak people are corrupted by money. If you're strong, you're after something else.
"It's hard for young artists. You're an adult at 18, but for a painter it takes longer. You don't really get it together until 35 or 45. In the 1950s, you had seven or eight years to experiment. But now you have to sell your first show and your second show and get a third show. And if you don't, you're a failure." Then again, he says, "there are always people with new walls."
6. Outsource to China
In a soaring studio on the outskirts of Beijing, where Kehinde Wiley came in 2006 to set up the first of his several global production outposts, the 35-year-old painter is showing off his women. Most of them are still incomplete—their faces need touching up, their gowns (custom-designed for his models by Givenchy) lack texture. But one already stands out: a tall, elegant black woman in a long blue dress—the canvas is enormous, eight feet by ten feet—calmly staring down the viewer. In one hand, she holds a knife. In the other, a cleanly severed brunette female head. "It's sort of a play on the 'kill whitey' thing," Wiley says.
Subtle, I think. Not that Wiley's work ever seems that subtle at first. Best known for his oversize portraits of young African-American men he finds on the street—"the boys," he calls them—against florid wallpaperlike backdrops in poses lifted from old portraits of European gentry, Wiley has in a mere decade built a monster career around bright colors, big ideas, and a canvas the size of Earth itself, every person in every nation a potential subject. His series "The World Stage" makes that promise literal, as he globetrots from the favelas of Rio to the slums of Delhi, pulling charismatic-looking men into the studio for Renaissance-style tribute. And his newest portraits, for a show opening May 5 at Sean Kelly Gallery, constitute his first all-female exhibition and tackle no less grand a theme than the historic representation of women in art.
That unabashed bombast has made Wiley a walking superlative: the most successful black artist since Basquiat, possibly the wealthiest painter of his generation, certainly the one who made his name earliest (he was 26 for his first major solo show), a gay man who has become the great painter of machismo for the swag era, a bootstrapper from South Central who talks like a Yale professor (much of the time), a genius self-­promoter who's managed to have it both ways in an art world that loves having its critical cake and eating the spectacle of it, too, and a crossover phenomenon who is at once the hip-hop world's favorite fine artist (Spike Lee and LL Cool J own pieces) and the gallery world's most popular hip-hop ambassador. Not to mention an all-around positive guy.
"Women have always been decorative," Wiley says, gesturing at the portraits around him. 'They've never been actors or possessed real agency." Compact, with a pink dress shirt tugging at itself across his chest and an unself-conscious gap-toothed grin, he doesn't look like the grave, hoodie-rocking men he often portrays so much as their nerdy cousin. (He listens to NPR on his Beats headphones.) Despite seeming exhausted, he's affable and reflective, as if picking up where he left off in some past interview.
Which brings us back to the lady with the severed head. Like most Wiley paintings, this one has a backstory: Her name is Triesha Lowe, Wiley explains. She's a stay-at-home mom whom Wiley found at the Fulton Mall. Her pose is a riff on classical depictions by Caravaggio and Gentileschi, of the biblical story of Judith beheading Holofernes. And the severed head? "She's one of my assistants."
There's nothing new about artists using assistants—everyone from Michelangelo to Jeff Koons has employed teams of helpers, with varying degrees of irony and pride—but Wiley gets uncomfortable discussing the subject. "I'm sensitive to it," he says. When I first arrived at his Beijing studio, the assistants had left, and he made me delete the iPhone snapshots I'd taken of the empty space. It's not that he wants people to believe every brushstroke is his, he says. That they aren't is public ­knowledge. It's just a question of boundaries. "I don't want you to know every aspect of where my hand starts and ends, or how many layers go underneath the skin, or how I got that glow to happen," he says. "It's the secret sauce! Get out of my kitchen!"
Producing work in China cuts costs, but not as much as it used to, Wiley says. These days in Beijing he employs anywhere from four to ten workers, depending on the urgency, plus a studio manager, the American artist Ain Cocke. The Beijing studio began as a lark: After visiting an artist friend there and liking what he saw, he and a couple of his New York staffers flew out, rented some space, and started painting, "sort of like a retreat," he says. One thing led to another—"another" being a five-year relationship with a Chinese D.J.—and eventually the Beijing studio became the main production hub as well as his second home. He recently bought an apartment overlooking Chaoyang Park, complete with a live-in maid and two miniature greyhounds, Xiaohui, or "Little Gray," and Celie, named after the character in The Color Purple.
7. Know These 100 People
The Institutionalists:
1. Glenn Lowry (MoMA) 2. Kathy Halbreich (MoMA) 3. Ann Temkin (MoMA) 4. Klaus Biesenbach (MoMA PS1) 5. Peter Eleey (MoMA PS1) 6. Thomas P. Campbell (Metropolitan Museum) 7. Richard Armstrong (Guggenheim director) 8. Nancy Spector (Guggenheim curator) 9. Adam Weinberg (Whitney Museum) 10. Donna De Salvo (Whitney Museum) 11. Scott Rothkopf (Whitney Museum) 12. Lisa Phillips (New Museum) 13. Massimiliano Gioni (New Museum) 14. Thelma Golden (Studio Museum) 15. Stefan Kalmar (Artists Space) 16. Tim Griffin (the Kitchen) 17. RoseLee Goldberg (Performa) 18. Anne Pasternak (Creative Time) 19. Nicholas Baume (Public Art Fund) 20. Yvonne Force Villareal and Doreen Remen (Art Production Fund) 21. Philippe Vergne (Dia) 22. Ed Halter and Thomas Beard (Light Industry) 23. Joel Wachs (Andy Warhol Foundation)
The Money:
24. Agnes Gund (collector) 25. Ronald Lauder (collector) 26. Alberto Mugrabi (collector) 27. Tobias Meyer and Cheyenne Westphal (Sotheby's) 28. Amy Cappellazzo and Brett Gorvy (Christie's) 29. Simon de Pury (Phillips de Pury) 30. Peter Brant (collector) 31. Glenn Fuhrman (collector) 32. Beth Rudin DeWoody (collector) 33. Phil and Shelly Aarons (collectors) 34. Richard Chang (collector) 35. Adam Lindemann and Amalia Dayan (collectors) 36. Thea Westreich (art adviser) 37. Amanda Sharp (Frieze Art Fair) 38. Maria Baibakova (collector)
The Dealers:
39. Larry Gagosian 40. Matthew Marks 41. David Zwirner 42. Marc Glimcher (Pace Gallery) 43. Gavin Brown 44. Barbara Gladstone 45. Marian Goodman 46. Carol Greene 47. Dominique Levy and Robert Mnuchin (L&M Arts) 48. Jeanne Greenberg Rohatyn (Salon 94) 49. Helene Winer and Janelle Reiring (Metro Pictures) 50. Brent Sikkema and Michael Jenkins (Sikkema Jenkins) 51. Mary Boone 52. José Freire (Team) 53. Elizabeth Dee 54. Andrea Rosen 55. Roland Augustine and Lawrence Luhring 56. Rachel Lehmann and David Maupin 57. Andrew Kreps 58. Anton Kern 59. Miguel Abreu 60. Michele Maccarone 61. Tanya Bonakdar 62. Lisa Spellman (303 Gallery) 63. Casey Kaplan
The Literati:
64. Roberta Smith 65. Jerry Saltz 66. Linda Yablonsky 67. Peter Schjeldahl 68. Michelle Kuo 69. Knight Landesman 70. Cecilia Dean 71. Christopher Bollen 72. Thomas Crow
The Artists:
73. Jeff Koons 74. Cindy Sherman 75. Matthew Barney 76. Sarah Sze 77. Amy Sillman 78. Kara Walker 79. Marilyn Minter 80. Wade Guyton 81. Rob Pruitt 82. Glenn Ligon 83. Maurizio Cattelan 84. Marina Abramovic 85. Ryan McGinley 86. Nick Mauss and Ken Okishi 87. Spencer Sweeney 88. Gregory Crewdson
The Young Blood:
89. Neville Wakefield (curator) 90. Clarissa Dalrymple (curator) 91. Jay Sanders (curator) 92. John Kelsey (writer, artist, dealer) 93. Alex Zachary and Peter Currie (dealers) 94. Margaret Lee and Oliver Newton) (47 Canal Gallery) 95. Candice Madey (On Stellar Rays Gallery) 96. Brian Phillips (publicist) 97. Pati Hertling (curator) 98. Kathy Grayson (the Hole Gallery) 99. Joel Mesler (Untitled Gallery) 100. Vito Schnabel (dealer)
8. Don't Be Afraid to Trade Up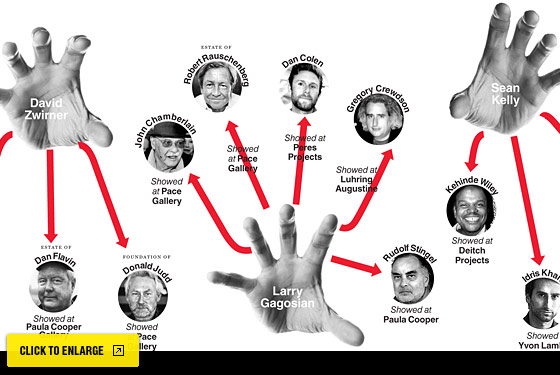 9. Show Up
In March, the art tribes gathered at the Armory and the Independent art fairs in New York. New York snapped portraits of some as they walked by. (The photographs on white are from the Armory; on gray, the Independent.)
Pick Your Artists and Stick With Them
In 1998, Phil and Shelley Aarons—collectors who go for the young and the nervy—bought a Foamcore sculpture of a Le Corbusier building by a young Tom Sachs. It had Hello Kitty figures on top. Today, when you walk into their 41st-floor apartment overlooking the park, you have a pair of decaying chocolate soldiers by Terence Koh at your elbow. In your face is the couple's "advisory"—a photograph by one Dean Sameshima of a sign outside a bar. It reads: THIS IS AN ALTERNATIVE LIFESTYLE BUSINESS. IF YOU MIGHT BE OFFENDED, DO NOT ENTER.
Trophy works by Koons are not for them. They hunt for what interests them at studios and small galleries, and in the many books by and about artists that also obsess Phil. "We're enthusiasts!" says Shelley, 50, a retired psychiatrist who is a New Museum trustee. "We buy what we like so the artists can make more." Works by now-fashionable artists the couple helped cultivate—Simon Fujiwara, Hernan Bas, Uri Aran, Leigh Ledare—fill their four homes. Phil's company, Millennium Partners, developed the tower they live in here, and he serves on the boards of MoMA PS1, Friends of the High Line, and Creative Time. "We buy a lot," he says. And they never sell anything. They've opened their wallets and hearts to at least 500 artists. But their patronage goes beyond acquisitions to funding exhibitions and catalogues, giving artists air miles, feeding them. "We get involved," Shelley says.
Take their relationship with Sachs. His handmade "Chanel" gun is by their bed; his black Chanel surfboard is in their living room. "He had the sensibility of a preadolescent boy. And I tend to respond to that," says Shelley. Now he's nearly as close to them as they are to their 29-year-old son. They've traveled and attended exhibitions together. "Shelley has given me tons of free psychotherapy, but as a friend," says Sachs, who first bonded with Phil over his collection of art books and 'zines.
"There's something about having the artist around and producing that adds to the excitement," Phil says. "You don't have that with Picasso." And Picasso couldn't have made the bedroom furniture for their condo in Miami. Sachs did, out of construction barriers and duct tape. (The bed's not so comfortable.)
"Sometimes we have to make hard choices that can generate hard feelings," Shelley says. "But participating in things we find meaningful, and the pleasure of having talented if sometimes difficult people in our lives, is ultimately satisfying. The art objects are great, too," she adds. "But that's just part of it."
Buy the Same Thing Everyone Else Is Buying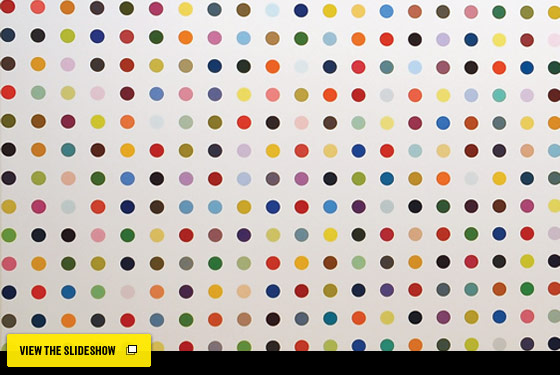 The outspoken art collector Adam Lindemann is opening a gallery at 980 Madison Avenue, on May 9. It's an open secret that a lot of New York art collections look identical, but Lindemann says his new gallery will not, he hopes, "show what's expected." What is expected? we asked.
 Get Born Into It
Don't Let a Gallerist Take Half the Profit
Be Ruthless
Are you interested in making a cruel and offensive offer?" e-mailed Deborah McLeod, of Larry Gagosian's L.A. gallery, to client Thompson Dean, about a 1964 Roy Lichtenstein work. The son of the owner, Jan Cowles, was "now in terrible straits and needs cash," McLeod wrote. "Come on, want to try?"
When the gallery got an offer of $2 million, Cowles's lawsuit against the gallery alleges, it was $1 million less than the price Gagosian had all but promised Cowles's son, but Gagosian took the offer, told Cowles's son he could give him only $1 million, and pocketed the difference. Never mind that Cowles says she hadn't given permission to sell the painting.
But let's not pick on Gago: Art is the last billion-dollar unregulated market, a vast ethical gray area. Things get particularly squirrelly in the secondary market. Whoever brokers a deal like the Lichtenstein one has no obligation to disclose to the first collector what the second is paying, and none to tell the second how much is going to the original owner. The only new rule might be: Try to avoid e-mail.
Pretend You're an Outsider Even When You're at the Center of Everything
Last month, Jayson Musson, an artist best known for his YouTube ­performances as the droll hip-hop art critic Hennessy Youngman ("a.k.a. the pedagogic pimp"), issued an open call for a show at a tiny storefront called Family Business that had just opened amid the grand name-brand galleries of Chelsea. "Anyone, and I mean anyone, bring their work down. Bring the fucking family couch," he said. "Bring big-ass paintings, little-ass paintings, things you painted in 1998 which is ugly as fuck … you got big-ass sculpture you want to show that won't fit through the door, bring it down and we'll just cut that bitch in half and reattach it when it's back inside."
Youngman is a vaguely Ali G–like character, though without the tightly wound British vindictiveness: He's stoner sly, and up until a year or so ago was pretty much unknown. But his video invitation, which was viewed almost 25,000 times, spoke to art insiders and those who aspired to be—a crowd whose celebrities are art stars, power curators, and career-making gallerists. "Now, as some of you may know, Internet, the boy Maurizio Cattelan and Massimiliano Gioni have opened up a new exhibition space," he said, wearing a cap with Pluto's face on it, to which he'd affixed a strawlike mess so that it looked like a bowl of pasta had been dumped on his head. "Which is situated next to the motherfucking Gagosian on 21st Street."
The boy Cattelan, 51, is an artist who, in the fall, had a career retrospective of his ironic, iconic art at the Guggenheim Museum. Gioni, 38, is the top curator at the New Museum and was recently named to run next year's Venice Biennale, which makes him, in this world, a ­tastemaker's tastemaker. "They're bosom buddies. Top of the food chain," says ­Musson, when I visit him while he's trying to hang the nearly 500 oddball, often porn-y works of art that spilled out onto the ­sidewalk (and yes, someone brought a sofa). "With Maurizio's affiliation with it, since he's sort of a clown, I thought it would be ­funny to do something ridiculous or something doomed to fail."
But there's a yearning behind this clowning. For Cattelan and Gioni, Family Business is an earnest prank, an altruistic carnival. Cattelan and Gioni are both known for their sense of humor and felicity with publicity. But their days of hanging out looking at art together, as outsiders, are long since over, and it's difficult to thumb your nose at the art-world Establishment when you've been embraced by it.
Boxed out by his own success, Cattelan—whose works sell for millions—decided to retire after the Guggenheim show. ­Making art wasn't as much fun anymore, it seems. In December, he persuaded Gioni to go in with him on a new venture, Family Business. It's not exactly a business—it doesn't sell work—but a working monument to a way of doing business that got them to where they are: a small mafia of subversive co-­conspirators. Unlike, say, the branch office of Gagosian next door—the global Goldman Sachs of the art world, where everything is exactingly vetted for collector value—it's designed for them not to be directly involved at all, at least on the curating level. As an experimental space fueled by their own blue-chip reputations, it's in many ways an act of optimistic nostalgia—an effort to recapture their outsider status, or at least give them access to that of others. And designed to be hijacked by those outsiders, who want what they have. While they watch, amused.
"Oh, you want to hear the whole legend," says Gioni. We've met for dinner at Tenth Avenue's Cookshop, the hectically slick gallery-district cafeteria. It took some back and forth with his busy schedule to get both him and Cattelan here.
Both Gioni and Cattelan grew up ­working-class Italians, though Gioni is the more educated of the two (he loves Sonic Youth and can recite by heart the dissociative Dadaist text Manifesto of Mister Antipyrine). He met Cattelan when interviewing him for the magazine Flash Art in 1997. Cattelan's career was beginning to take off then (a project he was conceiving at the time: having people wearing oversize ­Picasso heads hang out at the Museum of Modern Art), and he asked Gioni to do a radio interview, pretending to be him. "He said, 'I'll give them your number, and they'll call you.' And then it kind of escalated. It started as a form of problem solving. He didn't like to talk; I guess I like to talk too much," Gioni says, laughing. The role-playing was meant to undermine certain expectations of what is real, but Gioni's explanations of Cattelan's often very weird and vaguely allegorical art (like a sculpture of an elephant in a Klan uniform) helped give it a certain seriousness. The alliance made Gioni well known and Cattelan more easily comprehensible. "He was more famous, so it became some sort of propaganda for me," Gioni says, smiling. "It was very hard. I had to make two names for myself, my own and his." He laughs.
Pack Your Bags, Fly Around the World, and Hang Out With Everyone You Know From New York
17. Be Everywhere at Once (But Rarely New York)
Someone tells me that art is the lingua franca of the new global elite and that Hans Ulrich Obrist is its "Davos Man." I barely know what this means, but it has the truth of a good riff. The Swiss-born curator and writer has put together more than 300 exhibitions since his 1991 "Kitchen" show (literally held in his kitchen) at 23. None of the major ones have been in New York, which probably says something about our city's centrality in the larger scheme of things. He co-curated the first Manifesta (a roving show in Europe) in 1996, the first Berlin Biennial (1998), the first Moscow Biennial (2005), editions of the Dakar Biennial and the Guangzhou Triennial, the lauded, clamorous "Utopia Station" for the 2003 Venice Biennial, and on and on. He's often identified with the eruption of biennials, a signpost of art's junketeer globalism. That was a period of "being on the road 350 days a year," he says. These days, he's more anchored, spending weekdays in London, where he co-directs the Serpentine Gallery. He's also slipped from a "Da Vinci rhythm"—taking fifteen-minute naps every three hours—to a sleeping schedule of "midnight to 4 or 5 a.m." "You think that's not much?" he asks, amused. "It's not really unusual anymore."
Unlike other art-world frequent fliers, Obrist evinces neither glamour nor ennui. He's not over anything, even as he's always on to the next thing. "My work is never against something," he says. "Curating always follows art, not the other way around—that would be awful." To the art world, Obrist's peripatetic itinerary is by now so familiar it seems even cliché to mock the cliché. The buzz is tautological. He brands this sleepless, all-consuming productivity: do it is the name of his book–exhibition platform based on artist instructions. He stages 24-hour interview "marathons" with cultural somebodies. The title of his collected writings is dontstopdontstodontstopdontstop.
"The most important day of my life was when I was 17, and I met [artist Alighiero] Boetti," Obrist says. "He explained to me how unbelievably limited the art world is: 'There are the gallery shows and museum shows, the biennales and the one-percent public commissions. But there are thousands of other things an artist would like to do.' He said, 'That could be your job. To do all of these.'"
Join the Establishment. Cling to Your Street Cred.
Gavin Brown's Enterprise is on Greenwich Street in the still-industrial-feeling area that is neither Soho nor the West Village. The building is a former meat-­processing plant, and it takes up the entire block. "I don't know anyone else who has a whole block," Brown says as he walks the perimeter of his gallery with his dog, Dotti. He is nearly 50, he has three kids, and here with Dotti on a leash he looks like the kind of liberal-arts professor who would quietly ask the undergrads if they knew where he might score some pot.
But why a whole block, anyway?
"Because it was for rent," Brown says, and then smiles. He's being cute about it. Sure, it was for rent, but what is far more interesting is that Brown was in the position to rent it because he has been, over the past decade, an enormous commercial success, the majordomo of an art-world clique that is currently passing from cool kid to Establishment.
It's a tricky line to walk, and it's not clear which side of it Brown is on these days. And perhaps his success depends upon the whole thing remaining blurry.
Undeniably, Brown sells a huge amount of very expensive art. His roster includes highly collectible artists like Alex Katz and Elizabeth Peyton, but also Rirkrit Tiravanija, who's been known to serve dinner as art. And now the bulk of his space is occupied by a work by Frances Stark in which the text of her online flirting and sex chats with Italian strangers ("mmmmm," "omg") is projected onto walls in sync to Don Giovanni.
"I wake up in the morning thinking, What a great way to make a living," Brown says. "Artists are the most important members of our society. So success is how much their communication is being received, understood by other human beings … Rirkrit did a model of my gallery in the Whitney Biennial, and I guess a lot of it is feeling a sense of pride. Not that you've done it but that somehow you're in the orbit of something you believe will continue to have some positive effect on our ability to survive. But, of course, I'm not going to say that I like a painting because I've got a good chance of selling it."
Brown first came to New York from En­gland in 1988 as an artist in the prestigious Whitney Museum program. The only problem was that he decided his art, which he says was "proto-conceptual," was no good. "I couldn't ever quite suspend disbelief. I looked at these things, and they felt empty to me. I made a practical decision. I wasn't selling any art, so I had to make money."
He opened his first gallery in a tiny Soho space. Then, in 1997, he opened a gallery on West 15th Street with a bar called Passerby attached whose floor itself was a work of art by Piotr Uklanski. Like the floor in Saturday Night Fever, it changed color in response to the thumping music. Passerby was the center of things for a while. There was lots of Chloë Sevigny and Moby stopping by for drinks.
"That's beyond ancient history to me," he says. "I'm not interested in nostalgia. But I will say that I hadn't found the New York I was interested in." So he made his own—though "I guess it's a strange thing for a misanthrope to open a bar."
He's being cute again, because another key to the Gavin Brown ascendancy is his parties; Mary Boone wielded as much power from her perch at Mr. Chow as she did from her gallery, and Brown is often front and center in the social realm, throwing dinners to which most of Chelsea would like to be invited. "I like hanging out with my friends, you know? I get lonely. We're social animals."
Brown is so socially entrenched that his close ties with the New Museum—he represents Verne Dawson, the husband of onetime New Museum curator Laura ­Hoptman—led to whispers that he was part of some art-world cabal after the museum held solo shows for his artists Urs Fischer and Peyton.
"Boring," Brown says. "Small-minded bean counters. How's that for a good quote? I mean, the whole thing is so insulting to the artists, that they got those shows because of some relationship that I may have had with a curator."
Source: Newyork Art