JANINA RAMIREZ and ALASTAIR SOOKE, who present new series An Art Lovers' Guide on BBC Four, have very different tastes in art. One has a doctorate in medieval culture (Ramirez), the other is an art critic and expert in all things modern (Sooke).
So when they were asked to visit three European cities to select the best art and design hotspots, the resulting picks add up to an unmissable cultural bucket list.
With their pick of the sumptuous palaces, exquisite artworks and radical design of Amsterdam, Barcelona and St Petersburg, what did they choose to see?
Here the pair reveal five highlights from their first stop: the Netherlands' free-wheeling capital, Amsterdam.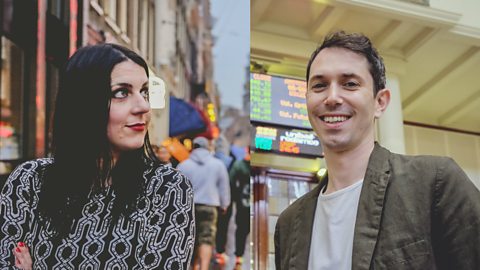 Dr Janina Ramirez and Alastair Sooke (Photos by Neil Pollock)
1. Take a ferry to the 'art city' at NDSM Wharf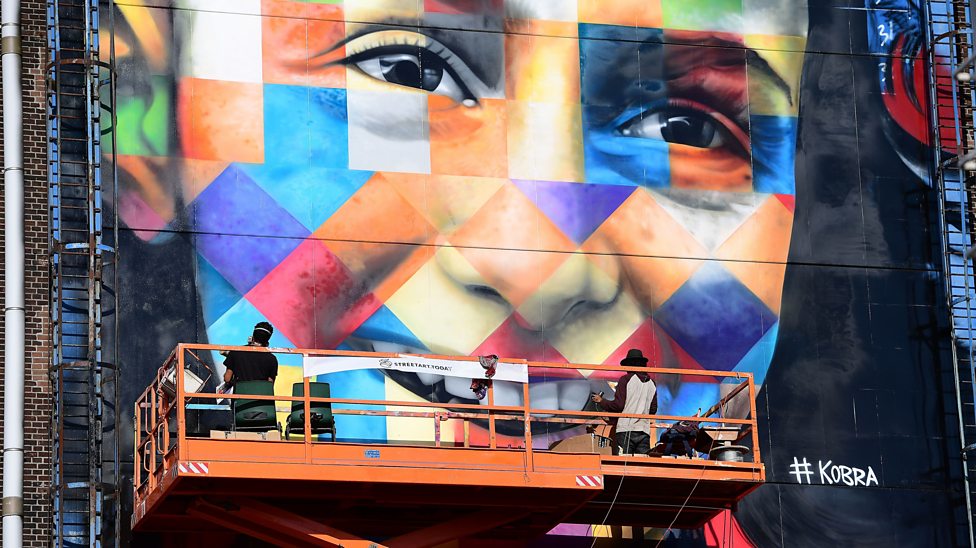 Brazilian street artist Eduardo Kobra (R) and his assistant work on an artwork of Anne Frank at the NDSM shipyards | Getty
Alastair: "Twenty minutes by ferry from Amsterdam Central Station, this former shipyard is now a vibrant and exciting cultural district, full of artists' studios, as well as bars and restaurants.
"On the night we visited, we caught an extraordinary evening of cabaret aboard the motley 'Ship of Fools', which is still moored there. This included one of the most memorable performances I have ever witnessed, featuring a hideous puppet showgirl who metamorphosed, before our eyes, into an auto-fellating snake."
2. Get lost on the canals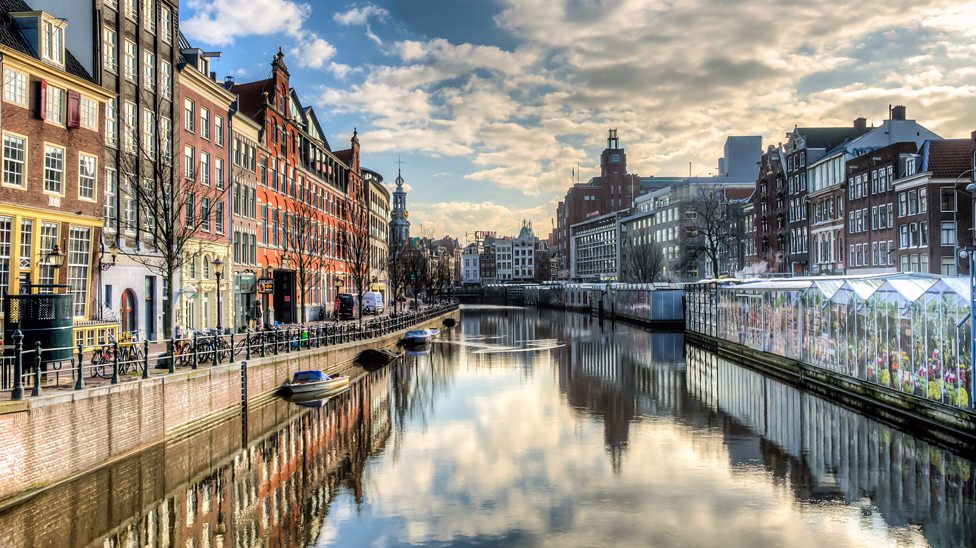 The Canal Ring, Amsterdam | Dan Bowen Photography | Getty
Nina: "The canals are the capillaries of the city. The only way to truly understand Amsterdam is to take to the water and see the centuries of buildings that have grown up along the waterways.
"We were lucky enough to get lost for nearly two hours on the canals. While frustrating for the filming schedule, it was a gift in terms of getting to know Amsterdam, and it helped us understand how water underlies everything this city does."
3. Be serenaded by the Music Boat Man
A musical excerpt from BBC Four's An Art Lovers' Guide: Amsterdam.
Nina: "Amsterdam is full of surprises, and they don't get more surprising that a duet between the bells of the Oude Kerk and Reinier Simpkin's Music Boat.
"On his miniature church organ, his trumpet and conch, Reinier creates a bizarre symphony which captivates tourists as they watch him wheel his boat around beneath the bridges. Being serenaded in this manner is an experience I'll never forget!"
4. Be tickled by the hidden cheek of Oude Kerk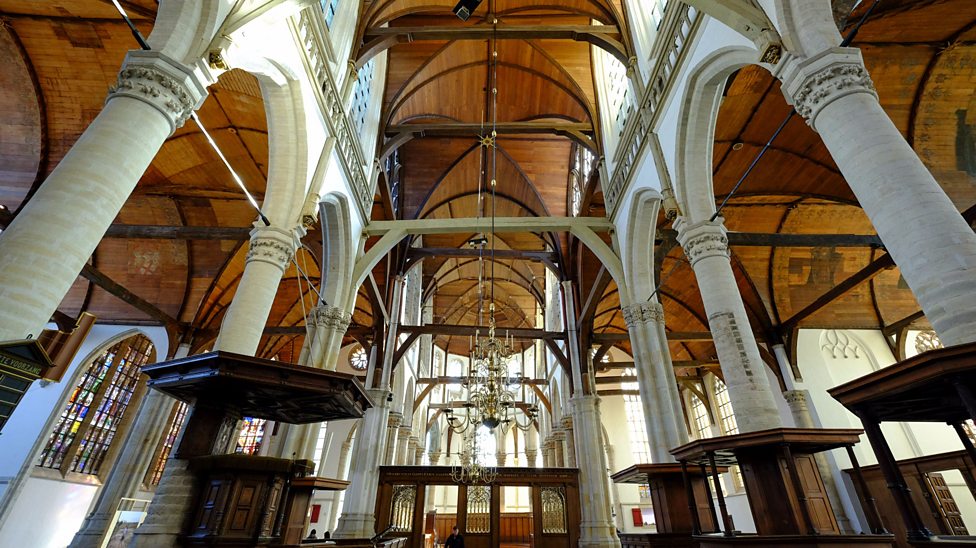 Oude Kerk (Old Church), Amsterdam | Getty
Nina: "I thought I knew misericords – those wonderful carved scenes on the bottom of seats in churches, where weary monks could rest their backsides during long services.There is an obsession with defecation – one scene shows a lady carefully pulling a turd out from a man
"Often comedic portrayals of daily life or moral messages, the ones in Amsterdam's oldest church are something special.
"There is a clear obsession with defecation, with one scene showing a lady carefully pulling a turd out from a man.
"The message is instructive – basically don't rush – but the treatment is unique."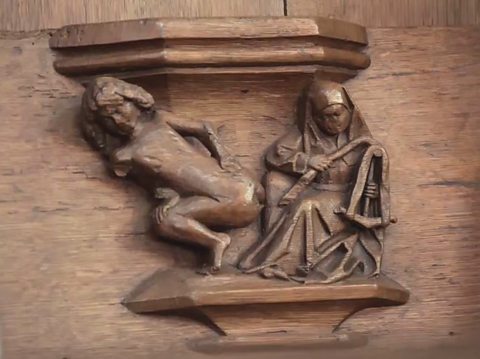 Misericord at Oude Kerk
5. Be beguiled by 'The Appel Wall' in the Stedelijk Museum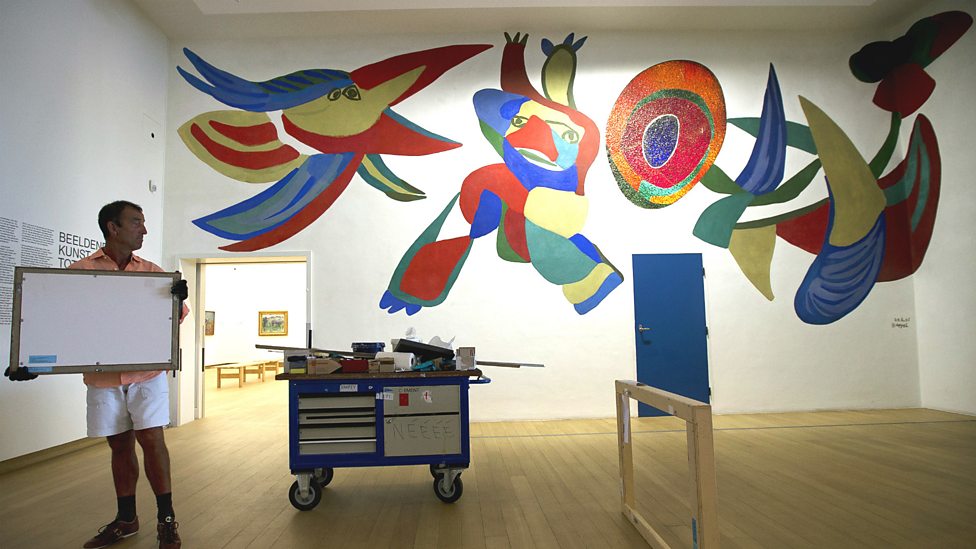 'The Appel Wall' by Karel Appel, 1956, Stedelijk Museum | Getty
Alastair: "Completed in 1956, and consisting of three colourful elements (a bird, a person, and a flower), rendered in a self-consciously childlike manner, Karel Appel's gleeful, liberated mural for the former restaurant of the Stedelijk Museum is a deliriously joyful, expressive, and energetic piece of modern art.
"There's a great installation in this gallery which is the only surviving De Stijl interior by Rietveld and it's a bedroom, but it's a bedroom like no other I've ever seen. The red of the carpet the yellow of the wardrobe – there's an eiderdown cover in blue – such a vision of clean living – the only thing I feel here is it's hard to imagine anything exciting taking place in a room like this!"
Nina: "I am in love with the furniture by The Amsterdam School – I was lusting after half the furniture in that exhibition."
---
Source: BBC Arts